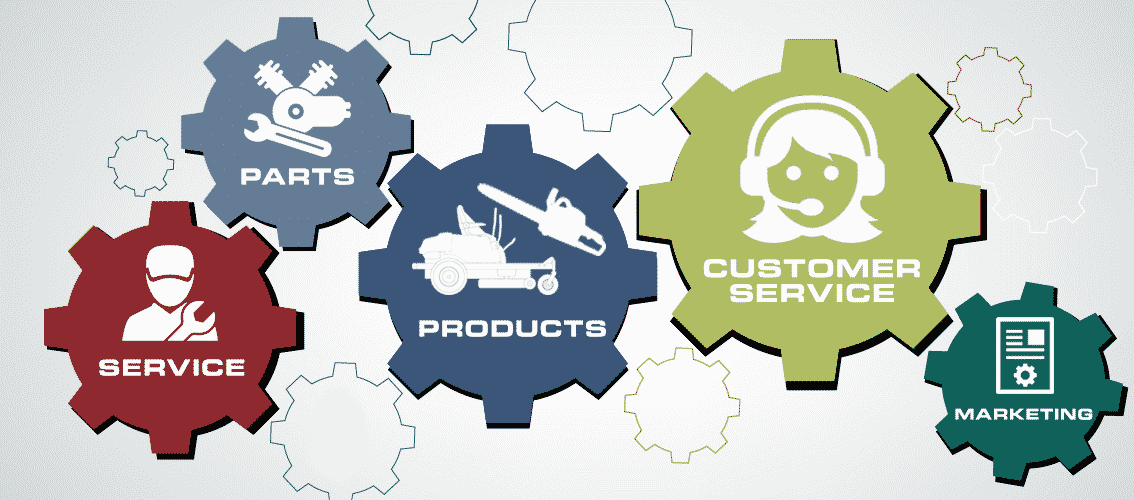 Why partner with us?
At Carswell our success depends 100% on our dealers success. We strive to offer top of the line customer service, diverse marketing materials, and the best brand offerings for outdoor power equipment available. Our team stands behind our products and the quality of work they provide. We drive customer success with creativity, trustworthyness, and the ability fulfill our customers needs whatever they may be.
Carswell/OEI Success Stories
Situation
Mike Cooper Truck & Trailer Sales, a tractor dealership in Fort Gibson, OK, is owned and operated by Mike and Kelly Cooper. They wanted to expand their business by entering the commercial and residential lawn mower market.
Service Provided
Mike Cooper selected Carswell/OEI as his partner and supplier for this new business opportunity, because Carswell/OEI worked with Mike to provide a full-line of product and create the right product mix of fast moving models.
Outcome
Mike has been highly successful in this venture. Carswell/OEI provided Mike with a solid mix of product and worked with him to promote it, but ultimately, Mike's success is attributable to his reputation of "doing what he says he will do" and taking care of his customers.
Ponca City, OK
Situation
Zack's Small Engine has been a Carswell/OEI lawn & garden parts customer for nearly fifteen years. During this time, his shop focused only on selling parts and service.
Service Provided
Carswe/OEI helped Zack expand his business through adding the right equipment lines for his market. Zack added Bob-Cat commercial mowers, Earthquake tillers and saws, and Robin trimmers to his stores offering.
Outcome
Zack's Small Engine is now a parts, service, and equipment dealer. These equipment lines in conjunction with promotions and POP materials organized by Carswell/OEI helped increase Zack's floor traffic and sales.
Camden, AR
Situation
Southwest Saw, a one time McCullough chainsaw dealership, wanted grow their business with new products and increase their service offering. To accomplish this expansion, they needed to improve their showroom and expand their product offering with the right mix of product to attract new customers.
Service Provided
Southwest Saw & Lawn's shop had become worn, cluttered, and unappealing to customers, so employees and Carswell/OEI sales associates worked together to clean the showroom and install new displays with Robin trimmers, Efco saws, and Bob-Cat commercial mowers. Additionally, Carswell/OEI worked helped create promotions to draw customers and installed appropriate POP advertising on the showroom floor.
Outcome
Southwest Saw's success with new sales and service led them to build a new dealership in a better location. Since the completion of this new location, they continue to expand their business and attract new customers resulting in more equipment sales sales and service work.
Click here to begin the process....
Get the ball rolling - Become a dealer.
More Info
Partner with us if you are looking for a better furture.
Address:
2404 Mt Zion Rd
Greenwood, AR 72936
Phone: 800.645.2031
Business Hours: 8a-5p M-F